Connection gone bad – but someone is happy out there. This short film program shows people and figures challenging normative representation. Who is allowed to be who they really are, without painfully bending themselves? Who is deciding whether a representation, a meal, a gender, a lifestyle is right? We show the struggles, fights and resistance in various formats. Sometimes funny, sometimes absurd, sometimes painfully sad.
Length: 83 min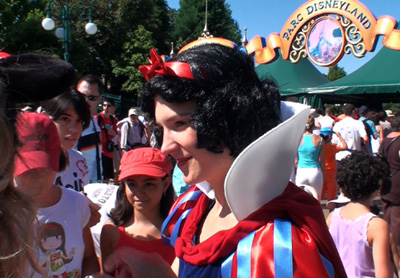 The absurd logic of the 'real character' and the extreme discipline of Disneyland become apparent when a real fan of Disney's Snow White* is banned from entering the park in a Snow White costume. As visitors are encouraged to dress up and a lot of costume-like merchandise is sold at the park, the full costumes are only sold for children.
The Disney slogan 'Dreams Come True' of course means dreams produced exclusively by Disney. Anything even slightly out of control immediately evokes fear of these real, possibly dark and perverse dreams coming true. The fantasy of the innocent Snow White doing something bad is so obviously real, that the security guards and management refer to it when explaining why the visitor can't enter the park dressed up as Snow White.
*Disney's Snow White and the Seven Dwarfs from 1937 is the first full-length cel-animated film in history; based on a fairy tale by the Brothers Grimm

Netherlands, France, 2009


Marriage, especially between LGBT+ persons, becomes the most common means to secure one's place i.e. one's "possible future" in another country. However, this leads to the clash of differences – between two person; the inequalities and the conflicts of powers, found in their private sphere. This simple story within one household – about spatial territories, gastronomic practices, personal memories, camouflaged identities and the coercive "assimilation" – showcases a quirky means of political resistance.
Sarnt Utamachote will be present for a Q&A after the screening.

English, Italian, Vietnamese



Persian
(English subtitles)


Beer! Beer! is an "anti-romantic comedy" set in the early morning following a wild party in Berlin. When Tao, a Chinese guy, meets Sebastian, a local German. As they seem to get more and more intimate with each other, suddenly a mattress changes everything…
Fan Popo will be present for a Q&A after the screening.




Portuguese
(English subtitles)




Swedish
(English subtitles)



Anette (55) and Carla (70) have known each other for years. Their rebellious nature and their special sense of humour connects the two self-confident women. They have always been swimming against the tide and even today they are still committed to their values. In the 1980s they fought loud and visible as radical feminists.
Years have passed and since society has only changed in slow motion, Carla and Anette decided to modify their strategies by using their criminal energy with a breeze of fun and rage. Today's shift to the right and that society pushes them to the edge not only as women but also because of their age does not stop them. Undaunted they are using their supposed invisibility to do what many would not dare to do.
Francy Fabritz will be present for a Q&A after the screening.

German
(English subtitles)